What an exciting time to document and celebrate the gift of new life! The best time to schedule your maternity session is 28-34 weeks, when the tummy is nice and round. This will vary with each women, and you want to schedule your session when you still feel good, but have a nice belly. Just like everyday you want to choose clothing for your maternity session that you feel most comfortable and beautiful wearing. Here are a few tips and ideas on how to choose the right maternity session outfit to get beautiful photos and the results you love.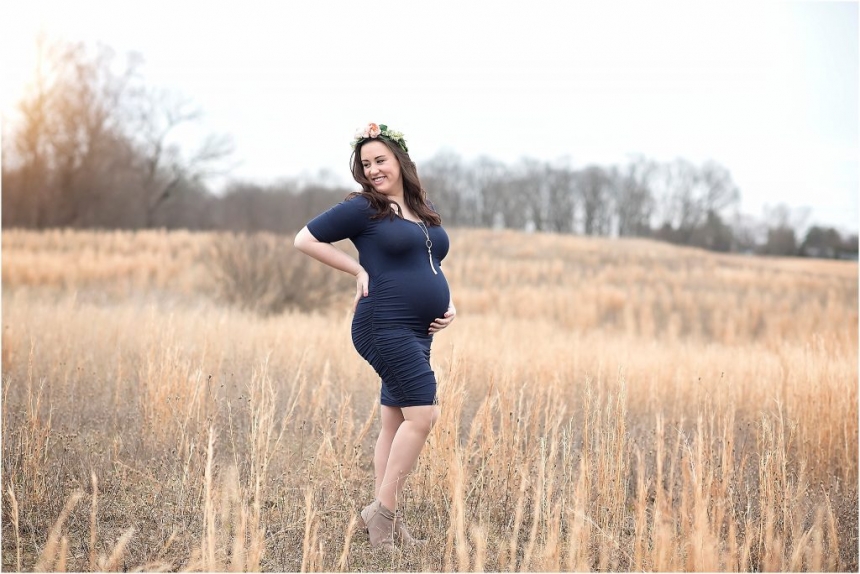 1. The Maxi Dress.
There are a couple of great reasons why a maxi dress is the perfect thing to wear for maternity shoots. For one, it's incredibly comfortable. Comfort is key when you are pregnant, and when you're taking maternity photos for an hour or so, you want to be as comfortable as can be. It also looks amazing on any pregnant body because it's incredibly flattering. It covers up anything you don't want shown, but can also be pulled against the belly to show off your adorable baby bump. A maxi dress is also a very dramatic piece of clothing to wear for a photo shoot. A flowing Maxi dress looks amazing in the wind and creates a lot of movement in a still photo, while covering any areas of concern. A tight Maxi dress will accentuate those beautiful curves.  You certainly can't go wrong wearing a maxi dress for your shoot. I do have a few maternity gowns that you are welcome to borrow for our session.
Source: lipstickandruffles.com
2. Wear Solids.
Since the main focus in your maternity shoot is your bump, then don't let anything take attention away form that, like a pattern or print. Wear solid colors for your bump to stand out the most. Solid colors photograph best, however; rules can be broken if you have a pattern you absolutely love. If you feel solid colors are too boring, then bring in some fun, bright and bold accessories like necklaces and scarves.
 
3. Choose your color palette.
There are lots of factors to consider when you are planning your colors but first and foremost choose a palette you like. Keep in mind the location of the shoot and the colors of the background. The time of year that you are having your photographs taken may also influence the colors you choose.
There are lots of great ways to get color palette inspiration. You can search on Pinterest for color palette boards or just photos that contain a color scheme that is appealing to you.
Design Seeds is another excellent resource and you can actually search for color palettes based on choosing a color you want to use as your base and work other colors around. You can also search by season, style or theme such as "The Sea", "Floral" and "Nature". It pretty much rocks.

4. Choose clothing with texture.
Choosing articles of clothing with different textures will add more dimension and interest to the photo. You can pair a chunky knit sweater with some jeans, wear a lace dress, or an embroidered top. Either way the texture in the clothes will create more interest, therefore making your photos look more beautiful. It's a great alternative to a print or pattern.

5. Accessories are awesome….so are layers.
Start with your base layer of clothing – your solid colored dress, a solid colored top and jeans and then add layers of texture and accessories. Add a textured short jacket or blazer, add a floral scarf, add a chunky necklace and bracelets or a headband. Don't forget to pay attention to or feet. A cute pair of shoes can make the outfit but it may be appropriate to go barefoot depending on your location.

6. Outfits Choices.
A great idea is to have two have two outfits to wear for your maternity shoot, such as a casual outfit and a dressy outfit. This will not only give you options when choosing which photos you want to hang in your home, but it will also give you some variety in the photos as well. Remember to always chose clothing that is true to your style and personality.

7. Props: You might choose to bring an ultrasound picture, the first letter of the baby's name, or a pair of booties as a prop to add to your session.

7. Pamper Yourself
If you can, invest in a little pampering before the session, such as hair, makeup, and nails. The more beautiful you feel, the more it will show in your photos. Even if you can only afford one of these, it will make a difference in how you feel during your maternity session. Have fun, relax and allow yourself to feel beautiful!
 
See more of my inspiration boards here.